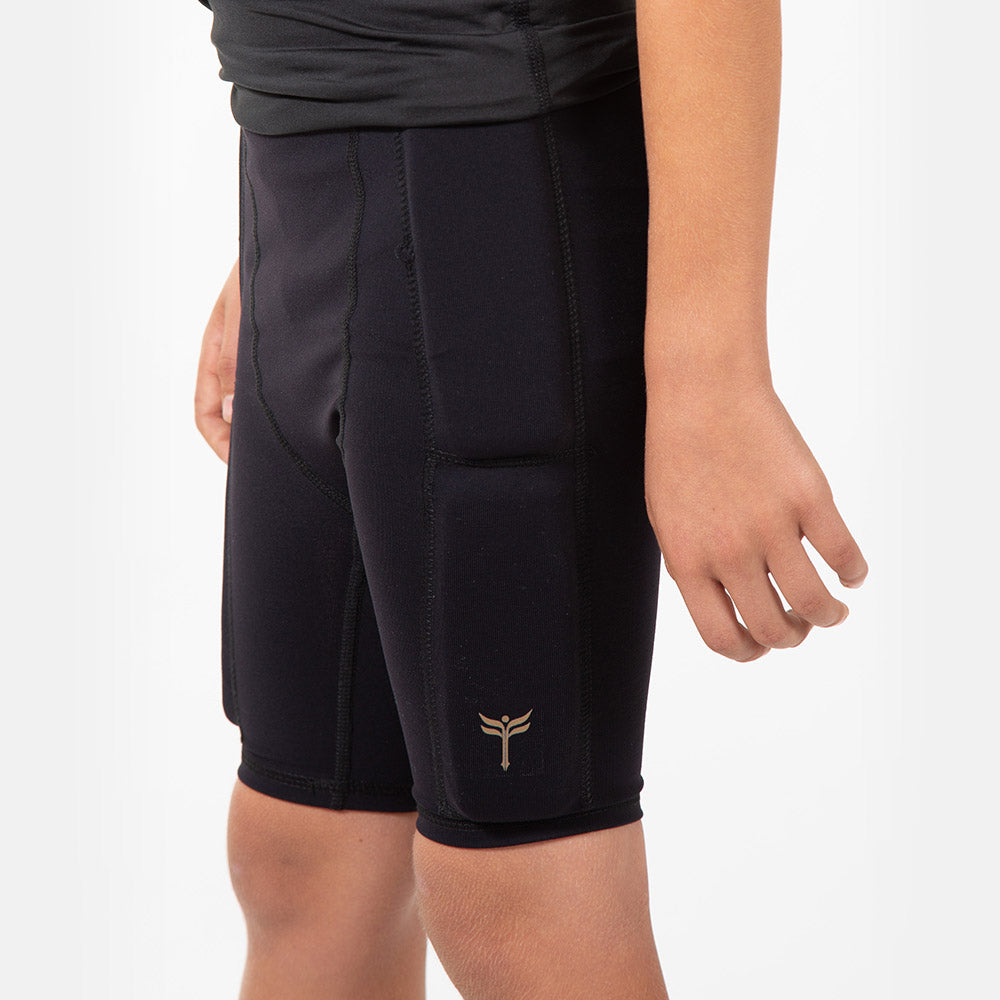 Boy's LifeStyle Weighted Compression Shorts
Add your weights below. This product can holds up to 4 weights
---
Elevate your athletic journey with our Boy's LifeStyle Weighted Compression Shorts. Designed for the modern athlete, these shorts seamlessly blend functionality with style. Experience the transformative power of weighted training, as these shorts help activate and engage specific muscle groups, enhancing strength, agility, and speed. Whether you're a budding sports enthusiast or a seasoned athlete, our compression shorts are tailored to amplify your training sessions.
Strong Weight System Explained:
Our Boy's LifeStyle Weighted Compression Shorts proudly feature the Strong Weight System. Each Strong weight weighs precisely 0.50 pounds, measuring approximately 2 x 6 inches. These weights are meticulously crafted for easy insertion and removal, becoming an integral part of most KILOGEAR bottom products.
Weight Kit Options:

No Weights: Ideal for those who already possess our weights.
(1) Pack of 2 Strong Weights: A beginner's choice, offering a total resistance of 1/2 LB per leg when a single weight is used on each side.
(2) Pack of 2 Strong Weights: Tailored for intermediate athletes. Using 2 weights per leg maintains a resistance of 1/2 LB on each side. This option provides an additional set of weights, perfect for alternating between workouts or as replacements.
Optimal Compression with Flexibility:
Our shorts offer a balanced compression level, making them ideal for competitive sports on the court or field. Designed with the diverse athlete in mind, they ensure a snug fit without compromising on flexibility, even for the husky athlete.
Key Features:
Weighted Training Advantage: Each leg pocket is designed to accommodate 2 KILOGEAR Strong weights, offering customizable resistance to intensify your workouts.
Superior Material Blend: Made with a premium blend of Nylon and Spandex, ensuring not just thickness but also unmatched flexibility and durability.
Optimal Compression: Achieve a snug fit without compromising movement, making it perfect for competitive sports and rigorous training sessions.
Sizing Flexibility: Especially curated for diverse body types, including husky athletes. Tip: Opt for a larger size if you're in between sizes.
Transform your training regimen with our Boy's LifeStyle Weighted Compression Shorts. Dive into the future of athletic wear, where style meets unparalleled functionality. Join the wearable workout revolution and redefine your athletic potential.